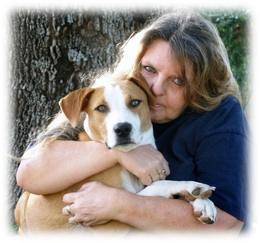 Cherry was born in England and came to live in the United States after marrying her husband Gregg in 2008.
Cherry began her love of dogs as a young child, walking four miles to the local shelter just to help out every Sunday. When she left school, she began working for the shelter full time and before long she was working alongside trainers and vets.
Rescue dogs are her passion, she believes they deserve a second chance and to train them to go on to be wonderful loving companions.
Cherry is an absolutely unbelievable trainer. The dogs that she rescues live in her own home environment, and are given the best available opportunity to learn, grow, and receive constant love. They are socialized from the beginning. Cherry has been able to train all dogs she has rescued to pass the Public Access Test – all basic home commands (sit, down, stay, leave it, wait, come, heel) – and also takes the dogs out for regular training in public settings (Walmart, grocery stores, pet stores, etc) to train them to avoid distractions, focus on her as the handler, to do wonderful meet and greets, etc. Cherry trains dogs for people with specific disabilities – for example, for mobility clients, she trains the dogs how to brace safely and retrieve items and hand them to the client. She ensures that all her dogs are taught specific tasks for those suffering from psychiatric illnesses, such as PTSD, by teaching them to "snuggle", "cover", and "give kisses". She uses the perfect blend of tender love and gentle, assertive discipline to make sure each dog reaches its fullest potential.
Over a period of 35 years she has gained much knowledge of dog behavior and training. Her "outside the box" techniques of training are to understand the natural needs and responses of a dog and to give the dog affection at the right time. She is studying for her Certified Dog Trainer diploma because she says it's good to have that piece of paper that says she knows what she's talking about!
Cherry has raised two mentally challenged children and knows only too well what is involved with the care and support needed for people with emotional needs. Cherry also has the most supportive, loving husband, Gregg, who loves the dogs dearly and frequently is the victim of happy dog piles!!

Training to "Get the Pack"

Training the COVER command