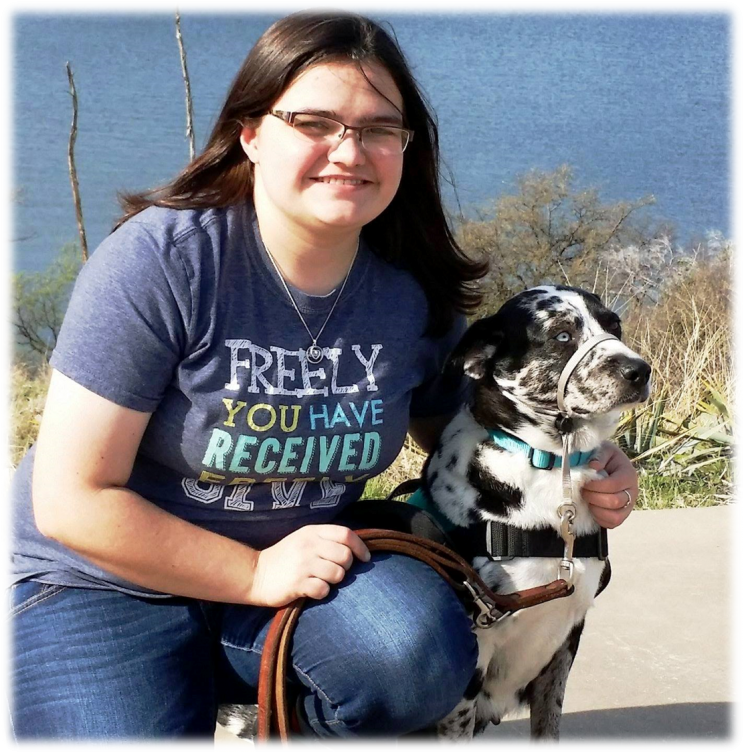 Natalie was born in California but was raised in Houston, TX. She earned a Bachelor's Degree in Mathematics from Lamar University with a 7-12 Teacher's Certification in December 2017.
While Natalie's major in college was Mathematics, she started out as an American Sign Language major. Natalie completed 2 years in this degree course before falling back in love with Mathematics and changing her major. In those two years, Natalie has become fluent in American Sign Language and made many deaf friends.
Natalie has PTSD from childhood abuse and has struggled with these symptoms as long as she can remember. By the time she entered college, she had developed coping mechanisms that seemed to be working and she was doing well in school and had a job that she loved. However, during her senior year at Lamar,
something changed and she started having panic attacks and constant anxiety from her PTSD. She was unable to leave her dorm, go to class or her job on most days and was quickly falling behind. After trying various methods to improve her anxiety, she finally decided to look into getting a Service Dog. She soon began training her current Service Dog, Maya.
Natalie had done obedience training with her family's pet dogs in the past and had worked with her stepfather's guide dog in her teens. Due to these experiences and Natalie's understanding of dog training, Maya was quickly able to learn the Public Access and service tasks necessary and she passed the Public Access Test soon after starting training. Having Maya as her Service Dog, Natalie has been able to go back to classes and work and be successful in both areas. While Natalie still deals with some issues from her PTSD, having Maya with her has given her the confidence to do the things that she was unable to do before and she has been able to resume the activities of her everyday life that had been interrupted.
Natalie is excited to be training with Service Dog Express and hopes to help other people experience the profound impact that a Service Dog can have on their life. Natalie has always loved helping people and hopes that working with Service Dog Express will give her a chance to do that in a new way.