Danielle is a Certified Professional Dog Trainer—Knowledge Assessed (CPTD-KA). She grew up in Connecticut, and has spent most of her life on the East Coast. Danielle had a loving black Labrador Retriever/Great Dane mix named "Sasha" who taught her about the unconditional love that dogs provide. She feels most at home in Nashville, Tennessee, having resided there since 2003. In 2007, she was able to adopt her first dog as an adult, a gentle and well-mannered Australian Shepherd rescue named "Loverboy". Danielle decided to open up her home to fostering rescue dogs in 2009, providing them with a stable and loving environment. She also taught these dogs basic obedience skills and socialization, thus increasing their potential for successful long-term adoptions.
In 2014, Danielle started working part-time as a Professional Dog trainer teaching group and individual obedience classes ranging from basic obedience to advanced training, including the American Kennel Club's Canine Good Citizen (CGC) award. Danielle's role as a canine foster strengthened her desire to see rescue dogs placed in many different roles, including Service Dogs. As a rescue dog advocate, she successfully completed an internship at the largest no-kill animal rescue in the country, Best Friends Animal Society in Utah. There, Danielle worked with dogs who had very diverse backgrounds and specific behavioral issues, including several of the dogs saved from the Michael Vick dog fighting ring.
Danielle's goal to be a Service Dog trainer started when she saw a news story about people who raised and trained puppies for Service Dog organizations ("Puppy Raisers") until they reached the maturity to begin advanced training. After working in the insurance industry for several years, Danielle was looking for a career change, and remembered the news story from years ago. Between 2012 to 2019, she became a "Puppy Raiser" herself, teaching advanced basic obedience as well as Service Dog-specific skills. Danielle was dedicated to improving lives: one person and one dog at a time.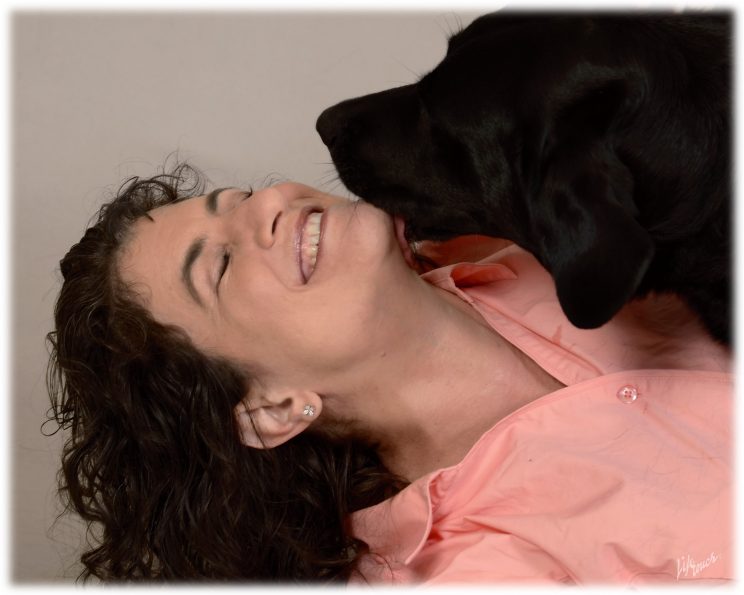 Danielle currently lives with her rescue dogs "Miracle", a Shepherd mix, and "Emma Grace", a black Labrador Retriever. When she is not at her home with her dogs, she enjoys hiking, snow skiing, photography and scrapbooking. Danielle looks forward to working with Service Dog Express and its clients to help people with disabilities benefit from the intrinsic value that comes from Service Dogs.