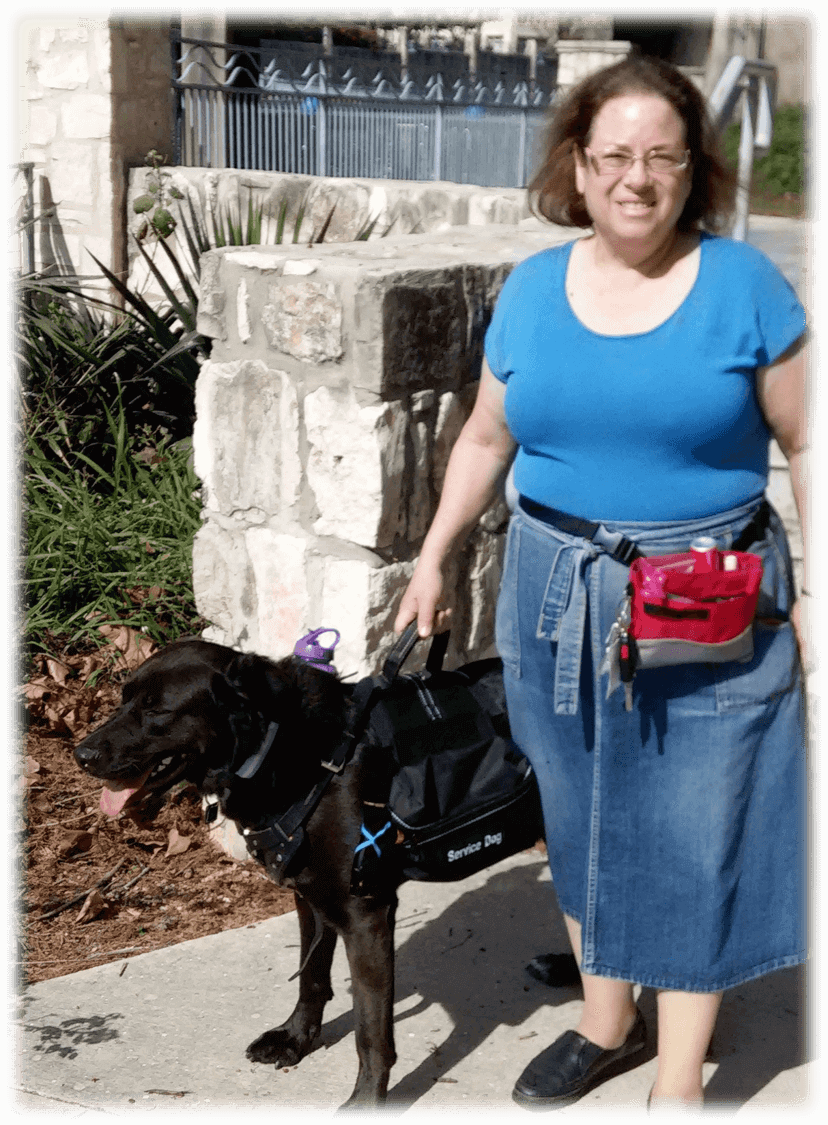 Robin grew up with dogs and trained her own dogs since she was young. As a child, she would spend hours teaching her Sheltie, Muffin, to do tricks, and rewarding her with small pieces of Swiss cheese from the fridge.
Robin was never popular at school, and was regularly taunted and bullied. Possibly because of her (as yet undiagnosed) ADD and Complex PTSD, her brain "just worked differently" than most people's. She had great difficulty relating to her classmates, and would come home to the solace of Muffin for comfort and understanding. Muffin was her "safe place".
At the age of 14, her family moved to Israel, where she was required to learn a new language and fit into a new culture. Unable to learn the language quickly enough to juggle high school in Hebrew, her sense of alienation grew and she experienced her first bouts of major depression. Home life was difficult as well, leaving Robin to cry into Muffin's soft, thick coat quite regularly.
After completing high school, Robin was drafted into the Israel Defense Forces, where she served as a Medic and Dental Assistant for 2 years reaching the rank of Sargent. She went on to study at Tel Aviv University.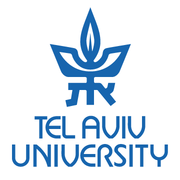 Her years of college, when Muffin was no longer alive to comfort her, were marked by prolonged bouts of depression, insecurity and anxiety. When a relative became ill, she returned to the U.S. with her family. She eventually entered a Physician Assistant program. Her ADD made it difficult to learn. Despite the emotional challenges and difficulties of the intense course of study, she graduated as president of her class.  Working as a PA also had its share of difficulties due to recurrent bouts of severe and disabling depression.
Robin is married to her husband, Joseph.  She and her husband particularly enjoy adopting rescued dogs and cats, and for many years were a 3-dog and one cat household. They would also regularly take in their friends' dogs while they were away. Robin's friends joked with her that someday she would have a home overrun by dogs and cats, because she couldn't say no to an animal that needed a home!
In 2008, Robin developed balance problems from medication. She was unable to walk straight, climb stairs or get into a car without falling. She could no longer work or even carry volunteer responsibilities (due to toxicity which altered her normal ability to function.) She decided to train her 5½ year old, 70 pound Yellow Labrador mix, "Honey", to assist her in walking and become a fully-trained Service Dog.  Honey took to helping Robin very well, and for many years they were a team.  She would take Honey everywhere. Eventually, Robin was able to return to part-time work as a Pain Management Physician Assistant, where Honey would lay quietly under a desk until Robin's shift was over.
During that time, Robin would be stopped regularly by people complimenting her on how well trained Honey was and asking if she would train their dogs! Since then, she has always known she would someday be involved in helping people to obtain and train their own Service Dogs.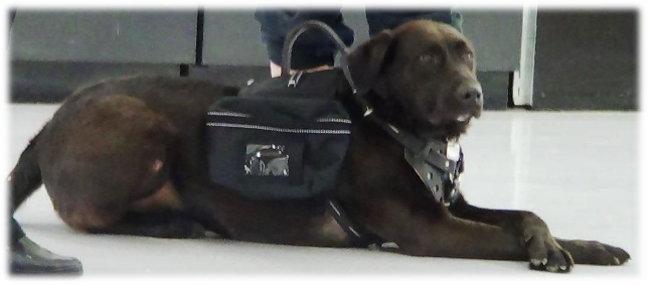 After Honey's passing, Robin adopted a new rescue, Smokey, to take Honey's place. Smokey had a history of abandonment and began to show subtle signs of having been abused. His insecurity made bonding, and therefore training, nearly impossible. Robin was concerned that Smokey would never learn to be a Service Dog, so she turned to Service Dog Express. Robin and Smokey flew from Philadelphia to San Antonio, where they underwent 2-3 hours of training a day with Beverli and then Laurie. Over the course of one week, Smokey began to open up, showed signs of trust, started to snuggle and became his current, wonderful self!  Robin continues to work with Smokey to become the soulmate and mobility partner that his predecessor was famous for, and he is turning into a wonderful teammate.
Over the years, Robin also acquired many other skills. She is a Certified Life Coach, a Certified Brain Health Coach
trained in the Dr. Amen brain healing method, a Certified Myers Briggs (Personality Assessment) Counselor, has worked as a PA in Pain Management for 10 years, and, together with her husband, does prayer for emotional healing.  Robin is understanding of the struggles faced by those who are hurting physically and especially emotionally.  After what seems like a lifetime of setbacks, she has spent most of her adult life wondering when things would "come together" for her, and has wisdom, expertise and hope to share, out of her own struggle, to make other's lives (and brains!) "work" through the use of Service Dog training!