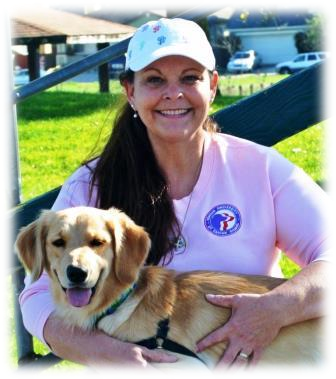 Lori has called Central Texas home since 1976, but she has lived and worked in throughout the US and spent 9 years working in the Middle East; Iraq, Afghanistan and Kuwait. Finally deciding it was time for a career change Lori decided to return to her love for dogs and desire to help people. She has owned dogs her entire life, especially learning a great deal while her family raised Rottweilers for many years. She also attended Texas State Technical Institute – Waco for their Animal Technology Program and was an animal technician for eight years.
More recently she moved to Santa Rosa, California and graduated from the only accredited Service Dog training university in the United States, Bergin University of Canine Studies. She received an Associate of Science degree in Business and Companion Dog Studies with a Certificate for Dogs Helping Veterans. As part of her educational training, Lori trained service dogs, worked with client teams, held classes, worked with several types of therapy dogs, and volunteered at several organizations. Additionally, Lori is a graduate of US-K9 Police Dog Trainer Course which included police foundation work with several breeds of working dogs.
Lori has been diagnosed with Fibromyalgia and PTSD, but working with her own service dog and helping other victims of PTSD, has truly helped her learn new approaches to handling her individual symptoms. Living with a disability can be tremendously challenging at times, but she is passionate about helping others and training assistance dogs.