Kendall grew up in the Austin, Texas area, surrounded by and training dogs all of her life. Her own personal disabilities have led her to want to help others with disabilities, as well. Kendall has found that avenue to help through training Service Dogs. She is passionate about traveling and enjoying time with family and friends, all things she is able to do due to her dedication to her health and her own Service Dog, "Beau".
Having "Beau" by her side has enabled Kendall to start working and continue her education. She is currently studying to be a medical esthetician. She hopes to help others through the medical field as well as dog training. Her passion to help others has been present since she was a little girl; always wanting to take care of other children and animals.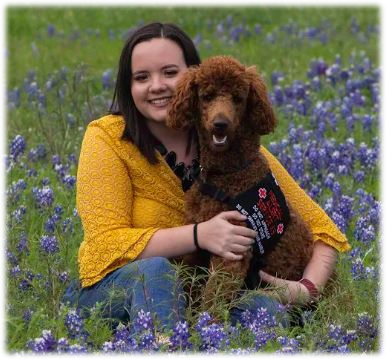 Kendall has trained multiple psychiatric, medical alert, and medical response dogs for herself, tremendously changing her life and giving her her freedom back. She has trained many Service Dogs under the tutelage of SDE trainer, Lori Saunders. She dedicates herself to constant learning, interacting with other trainers, and continued research on dog behavior. She is passionately driven to be the best Service Dog trainer she can be.