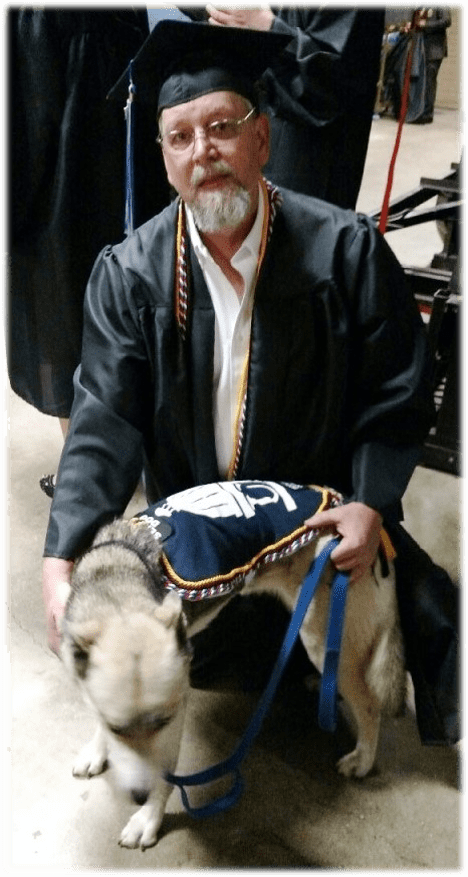 I am a veteran of the U.S. Army, where I was a member of the 95B, Military Police. I was medically and honorably discharged despite my desire to stay in the military in 1991, and went into long-haul trucking where I worked for 20 years. After an accident left me unable to drive commercial vehicles, I used my Veteran's Benefits to return to school. In 2017, I graduated cum laude with a Bachelor of Arts degree, with a major in Psychology from the University of Illinois at Springfield (UIS).
In 2013, I was diagnosed with Post Traumatic Stress Disorder, and started looking into getting a Service Dog to help me after thoroughly researching how Service Dogs can assist those with PTSD. In January of 2014, I got 'Max'; a Husky and German Shepherd mix, when she was 9 weeks old. I started training her as a Service Dog as soon as she was house broken, utilizing my own knowledge from my Psychology Degree and my research on self-training a Service Dog. 'Max' accompanied me everywhere I went after he was fully-trained, including attending classes with me. He was so helpful in helping me with my studies, and brought so much joy to everyone on campus!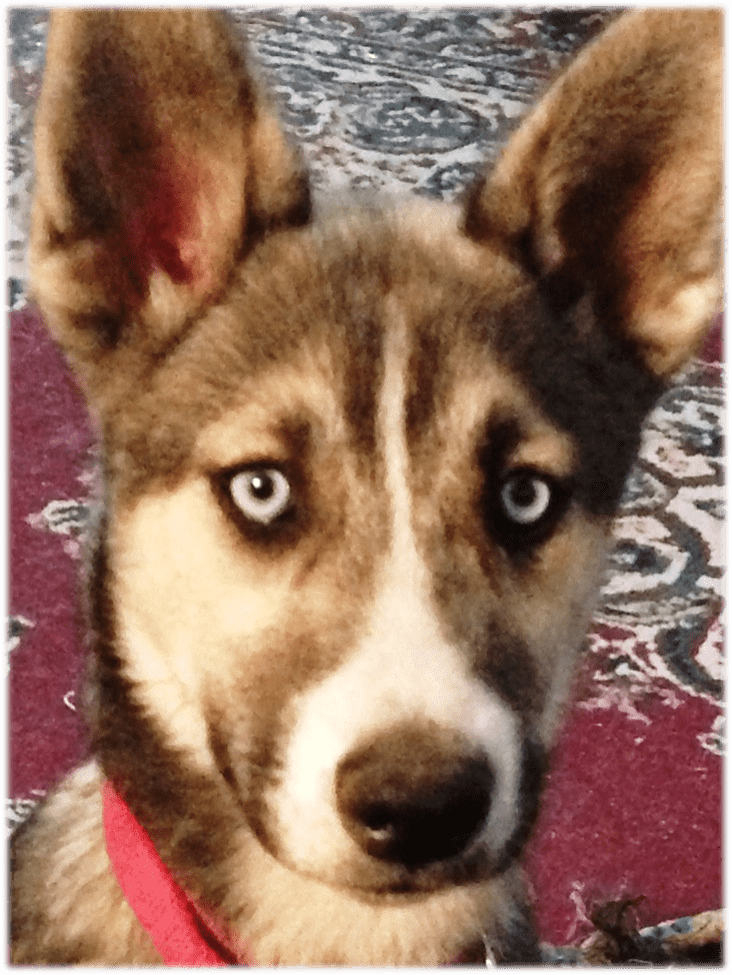 I have been married for 20 years, and my youngest daughter was diagnosed with ADHD. I knew that a Service Dog could assist her with her ADHD; especially in training her to 'focus'. I found her a suitable dog with the right temperament and ability to train in 2015. Their work together bonding and assisting my daughter with focus and patience made them a successful SD/Handler team. Now, my daughter takes her Service Dog to classes with her at Lincoln Land Community College here in Springfield and she is excelling!
I am currently enrolled in a Master's program at UIS, and working on becoming a Licensed Mental Health Counselor. I plan to use 'Max' in my career and incorporate 'Max' into my practice to help other veterans overcome the same difficulties I had with PTSD.
I have accumulated close to 2000 hours of volunteer service with the American Legion including; organizing everything for send-offs for new recruits leaving for basic training; funerals for those that paid the ultimate sacrifice, protecting our great nation; arranging homecomings for those returning from a deployment to a combat theater; helping veterans clean up after their home has been destroyed by fire or other disasters; and starting fundraisers Veterans needing financial assistance after a prolonged illnesses. In my spare time, I train Service Dogs and Emotional Support Animals for veterans who are in need of them.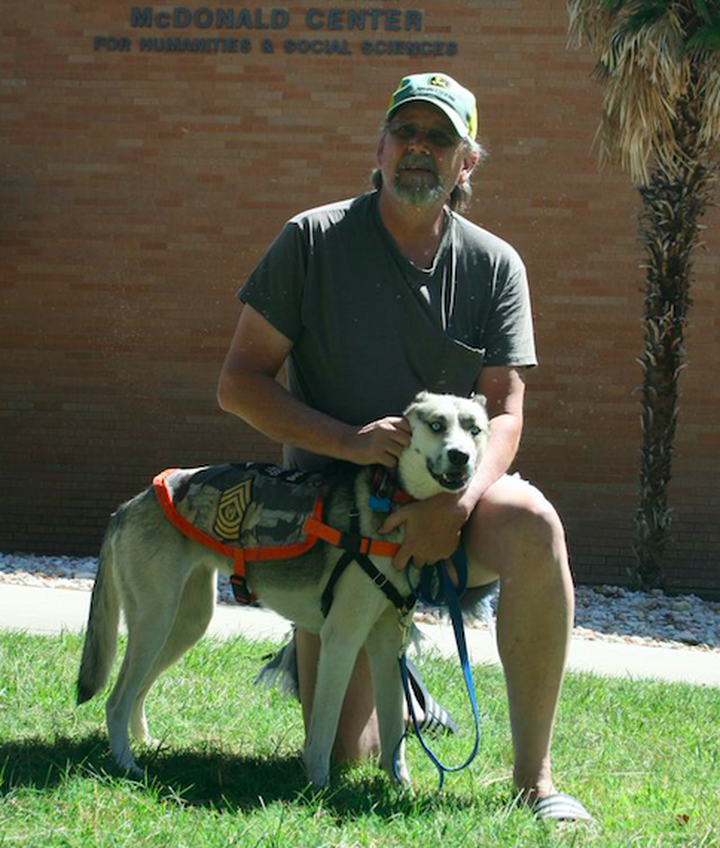 From 2011 to 2015, I was enrolled at Dixie State University. During this time, I was involved in many different service activities, from helping to organize 'puppy day' as a stress relief during finals to fund raisers to help promote actives for the Dixie Psychology Club and the Dixie Veterans Club. I also helped to organize workshops for faculty so that they could recognize when a student might be about to experience a "PTSD episode", and what common activities in the classroom might be a 'trigger' for those episodes so that we could recognize and work through them with the students. I helped Dr. Craver, Vice President of Human Resources at Dixie State, to bring the school's Service Dog policy in line with the current Americans with Disabilities Act. I also presented, during the spring 2014 'Dixie Research Day' on my research paper: The Demonology of PTSD: Are you Dr. Jeckle or Mr. Hyde?" During the 2015-2016 school year, my Service Dog 'Max' was named the "Service Dog of the Year" by the Dean of the School of Humanities at Dixie State University, Richard Featherstone.