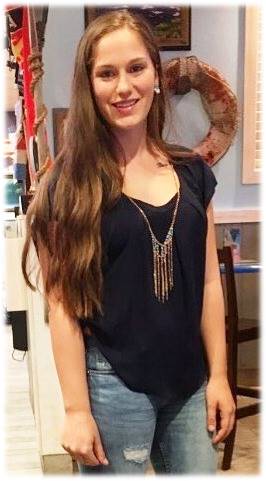 I have been an animal lover since before I was able to walk. Growing up on small farm in Lake Helen, Florida, I spent much of my time loving and nurturing all types of animals. My father is an avid hunter (for food), always having between 15 to 30 hunting dogs at a time. These dogs ranged in size and breed, and from the age of 4 on, I was always beside these dogs, helping in any way possible, eager to learn how to aid in the health of the dogs. I was not only interested in the treatment of the dogs, but I loved training the hunting dogs with my father.
Not only were there lots of dogs, but cats, cows, horses, and pigs as well! At the age of 3, my parents began to teach me how to ride horses. Before they knew it, I had picked it up and wanted to be off-the-lead rope, galloping around on my horses. As the years progressed, I advance to barrel racing on the weekends and taking English lessons learning how to do jumping.
My Father was a deputy sheriff in the Volusia County Sheriff Office, and would often train with the K9 unit (both the dual-purpose German Sheperds/Belgian Malinois and the blood hound teams). Whenever I was given the chance, I always tagged along with my father, eager to spend the time with the deputies; but more importantly their K9's. I would lay tracks in various areas and hide patiently as the blood hounds would follow my scent unit they found me!
Throughout the years, my passion for animals never dimmed. During high school, I was enrolled in the Veterinarian Program in the school's Agriculture Department. During this time, I was taught a wide range of skills, from medical skills to grooming dogs. I constantly volunteered to bathe all the dogs that were brought in from the teachers.
By the end of high school, I had decided I wanted to serve my country and join the United States Army. I enlisted as a (31B), Military Police Officer, with the hopes of becoming part of the Military K9 Unit. Within a few weeks of constantly pestering my Drill Sergeants for a K9 spot, I was selected to attend the Military Working Dog (MWD) Handler Course at Lackland Air Force Base in San Antonio, TX. After completion of my 5-month Military Police One Station Unit Training, I flew down to Lackland for the MWD Handler Course, graduating 13 weeks later. I graduated at the top of my class and received a Top Dog award from the Air Force and the Army.
My first duty station was Yongsan, Korea, where I spent a year working with MWD Charley, a Patrol Explosive Detection Dog. Together we worked hundreds of bomb sweeps, worked 5 Secret Service missions, including Secretary of State, Secretary of Defense and Joint Chief of Staff.
After Korea, I was stationed at Fort Sill, Oklahoma for 2 years working two Military Working Dogs: MWD Perra; a Patrol Narcotic Detection Dog for 3 months before she was medically retired, and then moved onto MWD Oki, a Patrol Explosive Detection Dog.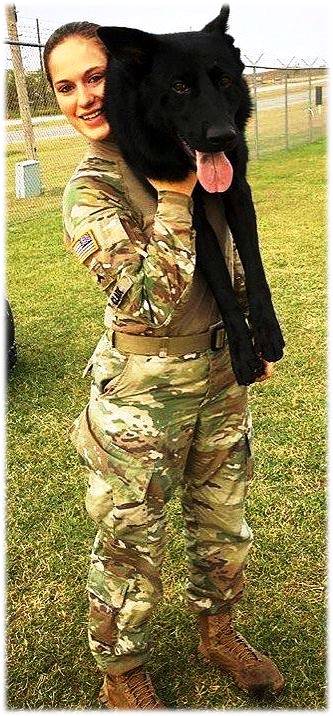 Oki and I were constantly together, and he soon earned the name "Boo Bear', because he looked like a black bear running around! Together, we worked hundreds of bomb sweeps, and 3 Secret Service missions including Secretary of State, Democratic National Convention, and the Republican National Convention, also attending a Police K9 Behavior and Decoy Techniques course.
I spent hours advancing Oki on a wide range of skills from aggression to the obedience course. I was responsible for all of his training and whenever he injured himself, which seemed like it was every time I turned around, I was in with him for hours at a time getting him looked at and treated. I hoped to retire MWD Oki as soon as he was unable to work any longer.
On March 1, 2017, I received an Honorable Discharge for the United States Army, hoping to pursue my passion of training and working with dogs.
I suffer from severe anxiety, panic attacks, depression, and PTSD from my childhood, along with many other injuries. I have found that the time spent with working dogs greatly helped all my problems. When I have a leash in my hand, it is like all my problems disappear and I am in my happy place; my "safe place". I have learned first-hand the benefits that dogs can bring to a person in need, and am eager to spread my knowledge and assistance to others in need.
I am Applied Suicide Intervention Skills Training certified, Start Right Training and Resilience Training certified (hunt the good stuff), and CPR and First AID certified. My passion is not only working with dogs, but helping people as well. This position with Service Dog Express allows me to do both at once, and I could not be more excited about it!