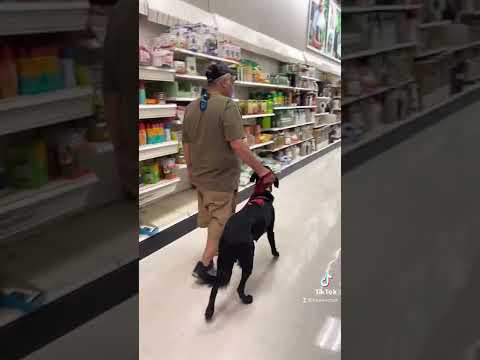 PTSD, TBI, LIGHT PSYCHIATRIC
Meet the Princely Prince!!
Prince is a 1.5 year old, 70lbs., neutered American Lab.
Prince is a stunning black American Lab. He has been tested in a public setting and is a natural!
Prince stays close to his handler and walks/heels wonderfully on a leash. He is quiet, well behaved and laid down quietly when tested in a restaurant. Prince knows sit, down, stay and is treat motivated to learn much more! He is dog friendly and very sweet, this dog is just waiting for his right owner/handler to come along to show off his full potential.
Prince was assessed and tested by an experienced Service Dog trainer however his new owner should not attempt public settings without their assigned trainer present.
Prince was rescued from a high kill shelter, so full background unknown.
Prince would be suited for a handler older than 7 years of age (regardless of gender), who would be able to exercise her regularly. For example, 15-20 minutes of activity, such as walking or jogging daily. No moderate or vigorous activities.
Prince's rescue requires an application process and a signed training contract with Service Dog Express.
Quick assessment of Prince:
Is in good health
Is willing to 'snuggle' and be held close
Willing to be petted and touched on all parts of its body, including back legs and on the face without incident
Makes good eye contact and holds contact for 10 seconds
Seems to be genuinely interested its "person" and seeks attention
Responds to praise and petting
Allows hand in its mouth without incident
Treat-motivated for training
When walking, is more interested on its "person" than on other distractions (other people, dogs) – Responds to 'leave it'
Not easily frightened (a response to a loud noise is to be expected, but the dog should not show excessive fear)
Is friendly, calm, and generally "laid back" around all ages of children and male and female adults
Exhibits no excessive barking
Shows absolutely NO signs of aggression toward other dogs or people
Absolutely no history of aggression
Dog is microchipped
Up to date on vaccinations
On monthly preventives
Unknown relations with cats
We do not transport dogs as there are numerous dogs across the country that need a forever home and have the potential to be a Service Dog. Our dogs have been assessed as potential Service Dogs but have not been trained yet. That training occurs when paired with their handler. This enhances the bond between dog and owner.