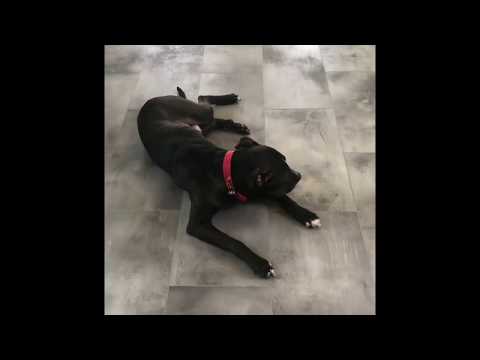 PSYCHIATRIC, PTSD, TBI, MEDICAL ALERT, LIGHT MOBILITY
Meet Lovely Loki!!
Loki is a neutered, 1.5 year-old, 55 lbs. American Staffordshire Mix.
Loki is QUITE the celebrity!! He was featured on San Antonio's Animal Care Services Trainers' Seminar, to demonstrate dog training. They picked Loki because he fits all the boxes for a great training candidate!
This smart boy has already learned some commands while in his rescue's care; and being treat-motivated, he can go on to learn a lot more quickly! He is confident enough to be trained in most places in public a person would go, and he absolutely responds to praise and positive reinforcement. Loki is quiet, well-behaved, gentle, and would make an exceptional dog for Service Dog training.
Loki gets along well with other dogs and is very gentle and affectionate toward people. He loves to lick to "give kisses", so scent detection training is a great possibility with this boy who will soon understand your unique smell and taste for medical alerts. Loki's appearance (due to his breed) makes people a little wary to come too close, even though he is overly sweet! Therefore, he is perfect for training where personal space and privacy are important.
Loki's rescue recommends he has a home with a yard or someone who likes to walk often. He can be a little 'pully' on the leash when he gets excited on his walk, but your trainer can advise you with the right equipment and training to encourage him to heal.
Loki would be suited for a handler older than 7 years of age (regardless of gender), whose age appropriate activity level consists of approximately 2 30-minute brisk walks daily, and regular training.
Quick assessment of Loki:
Is in good health
Is willing to 'snuggle' and be held close
Willing to be petted and touched on all parts of its body, including back legs and on the face without incident
Makes good eye contact and holds contact for 10 seconds or more
Housebroken
Seems to be genuinely interested its "person" and seeks attention
Responds to praise and petting
Allows hand in its mouth without incident
Treat motivated for training
When walking, is more interested on its "person" than on other distractions (other people, dogs) – Responds to 'leave it'
Not easily frightened (a response to a loud noise is to be expected, but the dog should not show excessive fear)
Is friendly, calm, and generally "laid back" around all ages of children and male and female adults
Exhibits no excessive barking (training can correct this behavior)
Shows absolutely NO signs of aggression toward other dogs or people
Absolutely no history of aggression
Is microchipped
Up to date on vaccinations
On monthly preventives
Unknown relations with cats
We do not transport dogs as there are numerous dogs across the country that need a forever home and have the potential to be a Service Dog. Our dogs have been assessed as potential Service Dogs but have not been trained yet. That training occurs when paired with their handler. This enhances the bond between dog and owner.