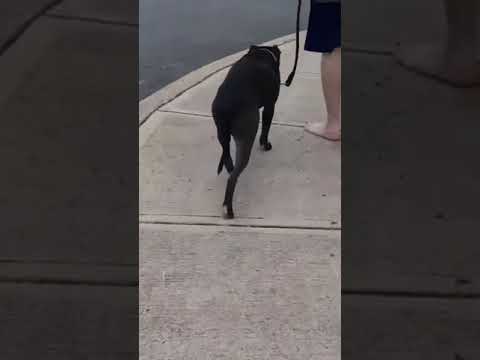 PSYCHIATRIC, PTSD, TBI, MEDICAL ALERT, LGHT MOBILITY
Meet Joyous Joe!!
Joe is a gorgeous, 3.5 year-old, 50 lbs., neutered, American Pitbull mix.
Joe is a sweet, calm, loving boy who wants nothing more than to be with his person. He makes amazing eye contact and loves to please.
Joe has been living with a Service Dog Express trainer who has trained him extensively to "heel" well on a leash. He knows basic commands, and gets along great with the trainer's other dogs. Joe is not so keen on cats and will chase.
Joe likes to snuggle with his owner and give kisses; he has a very calming presence – great for easing anxiety and applying Deep Pressure Therapy. He loves car rides and does not get car sick.
Joe bonds quickly with his handler, although a two-week bonding process before training will be important.
Joe would be suited for a handler older than 7 years of age (regardless of gender), who would be able to exercise him regularly – taking him on walks at least twice a day, playing with him in a yard, and going out into public on a regular basis. Joe would thrive in a calm household with a small family.
Joe's rescue requires an application process and a signed training contract with Service Dog Express.
Quick assessment of Joe:
Is in good health
Is willing to 'snuggle' and be held close
Willing to be petted and touched on all parts of its body, including back legs and on the face without incident
Makes good eye contact and holds contact for 10 seconds or more
Housebroken
Seems to be genuinely interested its "person" and seeks attention
Responds to praise and petting
Treat motivated for training
Not easily frightened (a response to a loud noise is to be expected, but the dog should not show excessive fear)
Exhibits no excessive barking
Shows absolutely NO signs of aggression toward other dogs or people
Absolutely no history of aggression
Is microchipped
Up to date on vaccinations
On monthly preventives
Does not get along with cats
We do not transport dogs as there are numerous dogs across the country that need a forever home and have the potential to be a Service Dog. Our dogs have been assessed as potential Service Dogs but have not been trained yet. That training occurs when paired with their handler. This enhances the bond between dog and owner.