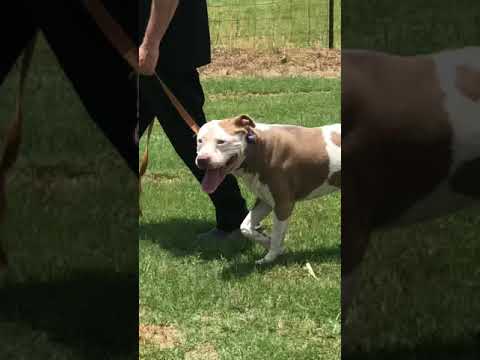 PSYCHIATRIC , PTSD, TBI, LIGHT MOBILITY, MEDICAL ALERT
Meet Jovial Jason!!
Jason is a gorgeous, 3 year-old, 65 lbs., neutered American Staffordshire Terrier.
Jason is aptly named after Jason and the Argonauts! This beautiful stunning boy is probably one of the most gentle and loving dogs anyone could meet. He is house and crate trained, and heels extremely well on a leash (see video). He learns commands very quickly, and makes excellent eye contact.
Jason enjoys giving kisses, which is wonderful for medical alert because he is picking up the metabolites that your skin is secreting – often the first signal that something is medically wrong. Despite being attacked on the streets as a stray before he was rescued, he has remained the sweetest of dogs – a real tribute to his resiliency and desire to love and be loved. Jason has some scarring on his face, but it has not altered his beautiful disposition. He loves cuddles and will push himself into you for snuggles – wonderful for any psychiatric conditions.
Jason would also make a wonderful dog for PTSD and/or other psychiatric issues because many who suffer from these conditions want to be left alone and not draw attention. Jason certainly has that 'keep away' appearance even though he is so, SO sweet. He gets along great with other dogs and will gently wag his tail to say 'hi'. He has shown absolutely no signs of aggression toward people or animals.
Jason would be suited for a handler older than 7 years of age (regardless of gender), who can take him on daily walks, go shopping, play in the yard, etc. He does not require vigorous activity.
Jason's rescue requires an application process and a signed training contract with Service Dog Express.
Quick assessment of Jason:
Is in good health
Is willing to 'snuggle' and be held close
Willing to be petted and touched on all parts of its body, including back legs and on the face without incident
Makes good eye contact and holds contact for 10 seconds or more
Housebroken
Seems to be genuinely interested its "person" and seeks attention
Responds to praise and petting
Allows hand in its mouth without incident
Treat motivated for training
When walking, is more interested on its "person" than on other distractions (other people, dogs) – Responds to 'leave it'
Not easily frightened (a response to a loud noise is to be expected, but the dog should not show excessive fear)
Is friendly, calm, and generally "laid back" around all ages of children and male and female adults
Shows absolutely NO signs of aggression toward other dogs or people
Absolutely no history of aggression
Is microchipped
Up to date on vaccinations
On monthly preventives
Unknown relations with cats
We do not transport dogs as there are numerous dogs across the country that need a forever home and have the potential to be a Service Dog. Our dogs have been assessed as potential Service Dogs but have not been trained yet. That training occurs when paired with their handler. This enhances the bond between dog and owner.