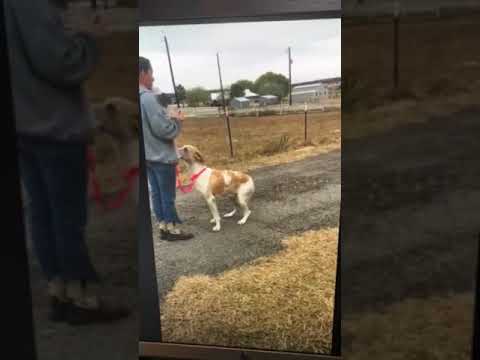 PTSD, TBI, LIGHT MOBILITY, MEDICAL ALERT, PSYCHIATRIC
Meet Darling Duchess!!
Duchess is a spayed, 1.5 year old, 85 lbs., Dane Lab Mix
Duchess is a truly wonderful and beautiful dog. Duchess has had some training and already knows a host of commands, has wonderful eye contact and is very sweet. She is house trained, obedient, heels well on a leash, comes when called, and gets along with most other animals.
Duchess has a wonderful sensitivity of emotion and will lay her head on your lap and just let the anxiety drift away.
Duchess craves to be with her person as she is very much a Velcro dog (wanting to be with her person all the time). People who would need personal space at times may not be suited for Duchess.
Duchess would be best for a handler older than 13 years of age (regardless of gender), who's activity level is equal to walking for 1 hour and 45 minutes at 4mph or jogging for 50 minutes per day. Spending a good part of the day doing some physical activity. She does gravitate towards adults, although she is great with young children, we would place her as a Service Dog in Training for an older handler.
The number one reason for dogs being returned to rescues and shelters are the existing dogs in the home rejecting the newcomer, so adopters must be certain that the new dog would be welcomed if there are animals already present in the home.
Duchess' rescue requires an application process before adoption and a signed training contract with Service Dog Express.
Quick assessment of Duchess:
Is in good health
Is willing to 'snuggle' and be held close
Willing to be petted and touched on all parts of its body, including back legs and on the face without incident
Makes good eye contact and holds contact for 10 seconds or more
Housebroken
Seems to be genuinely interested it's "person" and seeks attention
Responds to praise and petting
Allows hand in its mouth without incident
Treat motivated for training
When walking, is more interested on its "person" than on other distractions (other people, dogs) – Responds to 'leave it'
Not easily frightened (a response to a loud noise is to be expected, but the dog should not show excessive fear)
Is friendly, calm, and generally "laid back" around all ages of children and male and female adults
Exhibits no excessive barking (training can correct this behavior)
Shows absolutely NO signs of aggression toward other dogs or people
Absolutely no history of aggression
Is microchipped
Up to date on vaccinations
Fetes along with cats
We do not transport dogs as there are numerous dogs across the country that need a forever home and have the potential to be a Service Dog. Our dogs have been assessed as potential Service Dogs but have not been trained yet. That training occurs when paired with their handler. This enhances the bond between dog and owner.