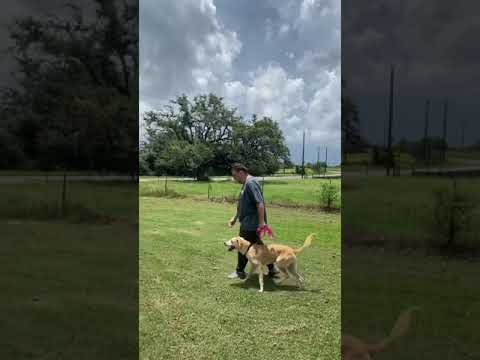 PSYCHIATRIC, PTSD, TBI, LIGHT MOBILITY
Meet Bryson!!
Bryson is a 2 year old, 60lbs., neutered Lab Pointer Mix.
Beautiful Bryson has a very sweet and gentle disposition, he walks well on a leash and is polite when meeting other dogs on his walk. He knows sit and is eager to learn much more.
Bryson is a tall yet slender dog, so he would not be suited for heavy mobility. He is a quiet dog yet will bark when someone comes to the door. Bryson would make a wonderful companion for either apartment or house living.
Bryson would be suited for a handler older than 7 years of age (regardless of gender), who would be able to exercise him regularly. For example, 15-20 minutes of activity, such as walking or jogging daily. No moderate or vigorous activities.
Bryson's rescue requires an application process and a signed training contract with Service Dog Express.
Quick assessment of Bryson:
Is in good health
Willing to be petted and touched on all parts of its body, including back legs and on the face without incident
Housebroken
Responds to praise and petting
Treat-motivated for training
Not easily frightened (a response to a loud noise is to be expected, but the dog should not show excessive fear)
Exhibits no excessive barking
Absolutely no history of aggression
Is microchipped
Up to date on vaccinations
On monthly preventives
Unknown relations with cats
We do not transport dogs as there are numerous dogs across the country that need a forever home and have the potential to be a Service Dog. Our dogs have been assessed as potential Service Dogs but have not been trained yet. That training occurs when paired with their handler. This enhances the bond between dog and owner.