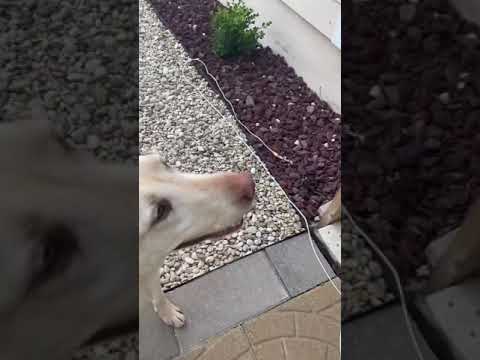 PTSD, PSYCHIATRIC, TBI, MEDICAL ALERT, RETRIEVAL
Meet Beautiful 'Baby'!!
Baby is a gentle, gorgeous, extremely bright 2 year-old, 60 lbs., spayed Yellow Labrador Retriever.
Baby learns commands easily, and is very eager to please. She likes to "snuggle", stays with her "person", and makes wonderful eye contact. She is loving and intelligent. She will make someone a wonderful Service Dog with the right training.
She would be suited to house living rather than an apartment, because she loves to have space and exercise her legs in a fenced-in back yard. Baby "heels" very well on a leash, but can protest sometimes if not going where SHE wants to go (her Labrador nose is always smelling her surroundings and wants to explore), but this can easily be corrected. It also means that she will be well-suited to picking up "scents from her handler, making task-training easier. Baby gives wonderful eye contact and knows basic commands.
She appears to prefer the company of male dogs, so a home on her own or shared with male dogs would be best. She has no aggressive tendencies at all – but she just likes the boys! Go figure!
Adopters must be committed to training and agree to an adoption process including a home visit and references.
Baby would be suited for a handler older than 7 years of age (regardless of gender), who would be able to exercise her regularly. For example, 30 minute walks twice per day, spending a good part of the day on her feet if training, or being allowed to run in a backyard.
Baby's rescue requires an application process and a signed training contract with Service Dog Express.
Quick assessment of Baby:
Is in good health
Willing to be petted and touched on all parts of its body, including back legs and on the face without incident
Makes good eye contact and holds contact for 10 seconds or more
Housebroken
Responds to praise and petting
Treat motivated for training
Not easily frightened (a response to a loud noise is to be expected, but the dog should not show excessive fear)
Exhibits no excessive barking
Absolutely no history of aggression
Up to date on vaccinations
On monthly preventives
Unknown relations with cats
We do not transport dogs as there are numerous dogs across the country that need a forever home and have the potential to be a Service Dog. Our dogs have been assessed as potential Service Dogs but have not been trained yet. That training occurs when paired with their handler. This enhances the bond between dog and owner.